House Nr. 58-59.

It has an upstairs and a downstairs, downstairs is the bathroom,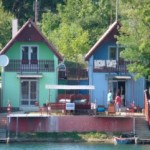 a completely equipped American kitchen ( fridge, deep-freeze, microwave oven, gas cooker, cutlery, coffee machine), and the small hall, where there is a sofa. his is mainly used by fishing men.
Upstairs there are three rooms, the large room looks to the lake, with a large balcony going to the south. here is a double bed and a single bed. Int he other room there is a double bed and int he little room there is a single bed. So there can stay max. 8 people altogether.
There is a Tv int he living room and int he room looking to the lake.
We recommend it for people with a pet. It is completely closed from both sides.
Please take it into cnsideration when choosing a house.
The yard is not windy. It is going to the south, so we recommend it for guests, who would like to sunbathe and relax. We provide two deckchairs, a garden banch, grill possibility (grill, pot and grill plate) to their holiday.
For fishers:
The water depth is between 5-10 m. At the buoys 5 m. There are two piers, the one near the water helps in keeping the fish. A boat also belongs to the house.
It is worth bringing fish food, you can take this by boat or feeding boat as well.
On the pier there are a fishing stick holder, lights, and a dazzle lamp. We would like to make fishing at night more secure and more comfortable this way.